With the holidays coming up, we'll be traveling a little and eating with family a lot, so I'm trying to avoid buying many groceries and eat what's already in the fridge instead. The first thing we ran out of was eggs.
This is a huge bummer, because I eat eggs for breakfast most days of the week.
I love them scrambled.
I poach them in my combination egg poacher/bread toaster.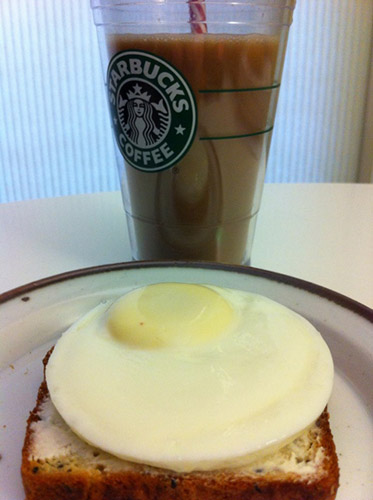 I love hard boiled eggs.
I make them into breakfast sandwiches.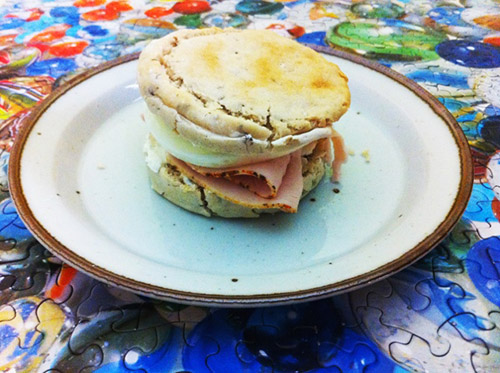 I "framble" eggs – fried whites, scrambled yolks.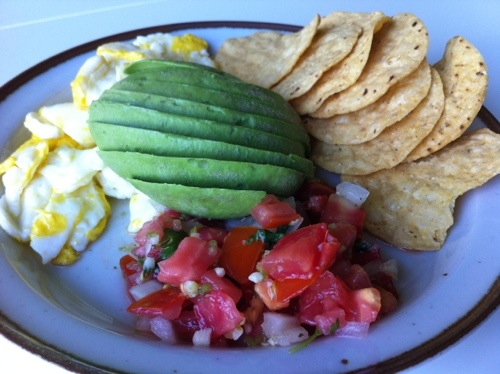 So without eggs, I've gone back to another breakfast staple – oats.
I wasn't thrilled about this, because I've learned that eating a sweet, carb heavy breakfast just sets me up for sweet cravings all day.
I've only been a regular breakfast eater for a couple of years, when I decided to get serious about eating healthy and losing weight. What I chose was two packets of instant oatmeal, eaten standing up in about 5 minutes flat. But it was something. Having something in my belly in the morning definitely helped regulate my appetite during the day – even though those little packets might as well be pure sugar and I would never (and can't because of cross contamination with gluten) choose them as a healthy breakfast now.
Now I've learned that I prefer savory breakfasts, and with a good dose of protein.
So yesterday, I made myself a bowl of savory oats. I soaked 1/4 cup steel cut oats overnight, and in the morning cooked them in water. After cooking, I stirred in about a tablespoon of butter and some spinach that needed to be eaten, and topped it all with a chicken sausage.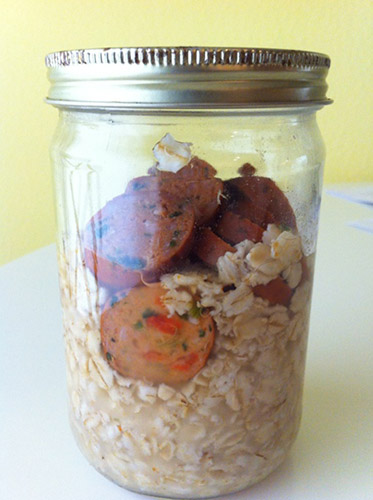 It might be a little unconventional, and I know the beige-on-beige picture doesn't look too appealing, but I loved this. I think oatmeal might be making a comeback …