Be honest – you sang that, didn't you?! It's okay, I did too.
Well, friends, I'm back! And I'm officially a massage school graduate. (Not officially a massage therapist yet, though – I still have to pass my licensing exam and wait for the state to approve my application.)
My graduation was on Saturday at Black Bottle. They're one of the top rated restaurants in Seattle for accommodating the gluten-free. It's also a spot Joel and I went to on one of our very first dates (aw).
Final exams proved to be hazardous to my health – I gave myself three gnarly paper cuts in my frenzied studying (the third was on the hand taking the picture). But at least the hard part is over.
For my graduation present, I wanted just one thing – a pedicure! I haven't had time to get one in months. Thanks, mom 🙂
I also bought a new salad spinner as a present to myself, and used it to make a huge salad to go alongside the turkey burgers I made based off of Deanna's lamb skewer recipe. (Truthfully, I just added the herb and pomegranate molasses combo to my turkey burger recipe – 1 lb ground turkey, 1 egg, 1/2 cup almond flour).
Other things that I've been up to recently –
Joel and I hung out with Eugene Mirman and his pretty good friends at the Eugene Mirman Comedy Festival a couple of weeks ago. Aren't they cute?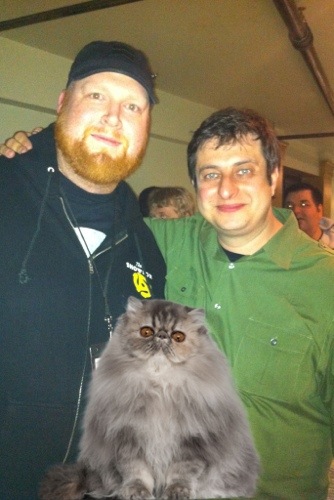 And last week was my little sister's birthday. We went out for sushi and froyo.
The roll in the middle was tuna and scallions. A surprisingly tasty combo.
And I think with that, we're all caught up. Thank you again for sticking around during my blogging hiatus. I'll be back tomorrow!