Allow me to begin with an admission: my posting has been pretty inconsistent and a little lackluster lately. There are several reasons for this, but one big one.
The jungle. No, I mean, the junk room.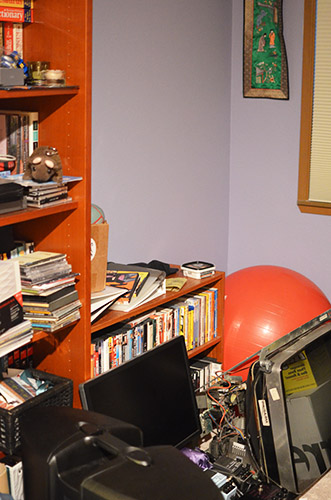 This is our spare bedroom. In case you couldn't tell from the photo, it has become dumping grounds for the stuff we don't want to deal with.
Two years ago, we cleaned it up and made it my massage studio – there was nothing in it but my desk and massage table. Then, I finished massage school and one thing led to another and here we are.
About this time last year, I won a TV in the company Christmas party raffle. We had just bought a new TV about a month before, so we decided to clean up the spare room, set the new TV up in there, and turn it into our "nerd cave." It was a great idea: we could move all our comic books and board games and gaming consoles back there, and we bought some art at Comic Con to set the tone (or "nerd it up," as Joel likes to say.)
Then Joel brought home an arcade machine cabinet and those plans were put on hold until he fixed it up. That was last May.
Here's the boys wheeling it into its new home last spring. I took a photo so I could remember that moment thinking to myself "that's much bigger than I was expecting" and "why did I agree to this?!"
Here it is today: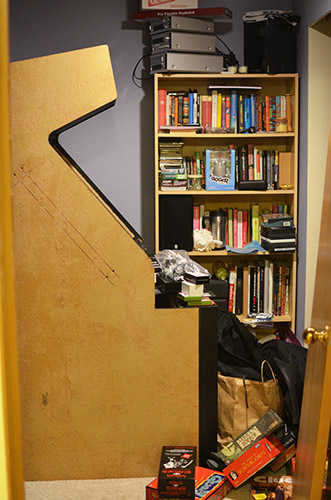 Obviously, the machine still needs some work, but we can put off cleaning no longer. We've made it our joint New Year's Resolution to get the condo fixed up and get rid of excess stuff. At some point last summer, we looked around and realized that between the two of us, we had two kitchen tables, three desks, three bookcases, and stuff stacked on every horizontal surface available.
I'm embarrassed admitting to all this, but I'm also laughing at myself, because this is madness!
Sadly, this isn't even the "before" picture – we've already done a day's worth of cleaning back there. Yes, it was bad!
All this is to say, this is where I've been and why I haven't been blogging. We have a list of things around the condo that need fixing up, and have been tackling one each weekend. We've tackled a couple of smaller tasks, like painting all our doors and door jambs. The bigger and more complicated ones are still to come, like replacing the bathroom flooring and retiling the fireplace.
But if I'm being really honest with you, I've also just been feeling a little uninspired when it comes to blogging. So if my posts continue to be few and far between for the next several weeks, just assume I'm in the back room, up to my knees in junk.